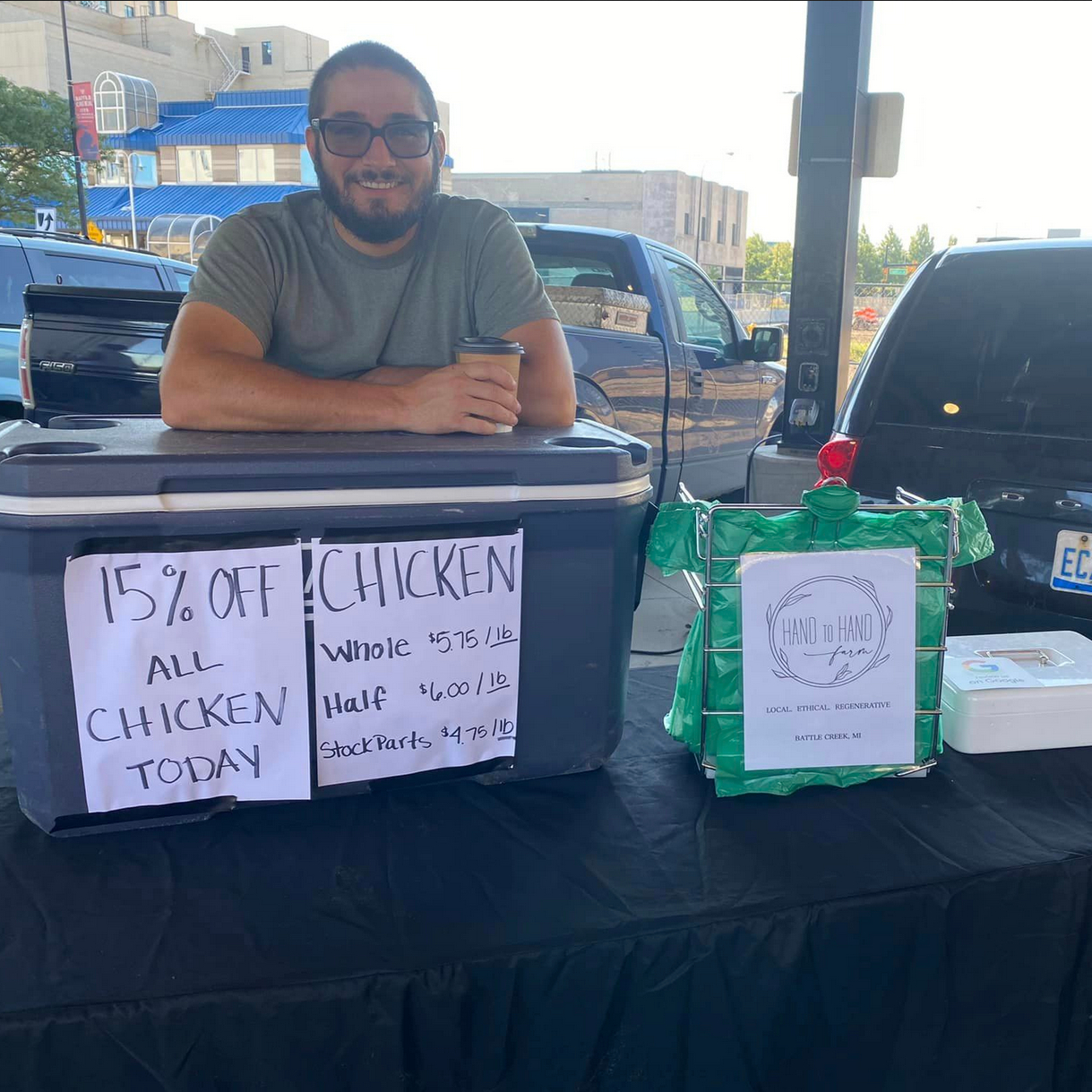 Hand to Hand Farm
Address: 12620 H Drive North Battle Creek, MI, 49014
Phone: 269-832-2129
About Us
In 2020, the Phillips' family established Mitten Creek Farm and have relocated to the Battle Creek, MI area in 2022 at the Wright's property which they purchased in 2020. During this relocation and new business partnership, we have decided that our old farm name did not fit the property nor the joint vision. We decided upon Hand to Hand Farm as our new name as we are focused on being a community based farm by growing, raising, and participating with our local community and food systems.

As first generation farmers, we are working together to revitalize one of the original farmed properties post-settlement in the 1840's. We are passionate about growing food while healing ourselves, our community and our land through regenerative farming practices.
Practices
We are two families co-farming with hopes to maintain the highest quality, ethical values, and reduction of food miles through a community based farm operation. Utilizing regenerative farming practices, we move our livestock throughout our pastures which not only reduces health risks upon the animals but also increases soil fertility making our pastures healthier.

We take transparency seriously here. We got into raising our own livestock to ensure the ethical treatment and highest quality of life is given to the food we consume. Our intentional sourcing includes a hatchery in which we drive to and pick up our birds, the grain mill we go to in Amish country to speak directly with the miller and our Non-GMO grain suppliers, and we've been provided an opportunity to tour our selected USDA processing facility. We know the chicken business from day of hatching till it reaches your plate.

Thanks for giving us the chance to grow food from our hands to yours and we look forward to growing with you in community and health!
⁃ Hand to Hand Farm team!